School-wide Focus
This year, to kickstart the school-wide focus on caring for the environment, Westmount Elementary School chose 'The Lorax' by Dr. Seuss to share with their students.  The 'Environmental Team' of students created monthly challenges for the whole school that connected to environmental stewardship. Each class was challenged to find a way to care "a whole awful lot" about the environment and make a change.  After the custodian commented about how amazed she was that the entire school of 400+ students, only had two bags of garbage a day, the grade four class chose to investigate what efforts were being made by students and staff to reduce the amount of waste in the building.
Authentic Reading and Writing
How was such a drastic reduction in the amount of waste they produced possible?  Grade four students started to investigate this by examining various areas in and around the school building to discover what was currently being done to reduce waste.  In partners, students took pictures and captured as much detail around their spaces as possible. Students were then asked to interview staff and write a video script to share/celebrate specific examples of what is being done at Westmount to reduce their environmental footprint. 
Powerful Use of Technology
The goal was to deliver an engaging, informative and respectful message around the importance of reducing waste to make the world a healthier place.  This message was more important than the technology they used. The technology, which was the video editing platform WeVideo, provided the vehicle to spread the powerful message.
Students were highly motivated and engaged in sharing what they had learned through the use of this technology.  They were taught how to use green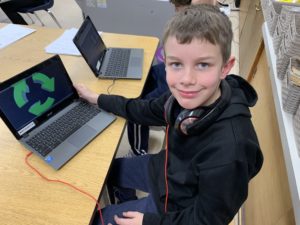 screen to make videos of themselves and use WeVideo to deliver their important messages to other students, staff, families, and community.    Students uploaded their videos to Google Classroom, which allowed their teacher to provide timely, descriptive and specific feedback. Time was spent by students editing their videos to focus on the most important messages to communicate.  When asked what they liked the most about learning in this way, students stated:
"It was so much fun to do the research, learn the facts, write our script and then 'shoot' and edit our video!"
Community Connection 
This topic fits extremely well with the grade four science topic Waste in Our World.  Students were able to get up close and personal with some of our waste by visiting the local Huxted Waste Disposal and Strathmore Recycle Yard.  Students can describe how waste is disposed of in their community, identify toxic wastes and compare different kinds of packaging. They are demonstrating what they have learned by reducing the amount of waste in their school.
Hoping to Motivate Other Schools to Follow Suit
 When asked what they learned and hoped would come out of this project, many students replied:
We want our message to get out to other schools so they can help make a difference in the world too.  

We only have one Earth and if we don't take care of it, we won't have a healthy place to live.

EVERY PERSON can help make a difference.
If you are looking for some additional ideas of how to integrate technology into your curriculum in a meaningful way, try connecting with an instructional coach.